As one of the leading health sciences universities, the University of California, San Francisco (UCSF) is committed to advancing health worldwide including sharing its expertise through healthy and sustainable food. Comprised of a leading research university and a health system, UCSF is unique among the world's universities with no undergraduate students and only health sciences fields of study.
The Department of Nutrition and Food Services (NFS) serves all of the constituents at this unique university. Though originally established within UCSF Health to serve patients, the department has robust retail foodservice and catering operations for faculty, staff, and students in addition to a hotel-style room service dining program for patients. Though there are approximately 23 other contracted food vendors at UCSF though other entities, NFS is the only university-operated food provider serving both the medical centers and the campus at large. With inpatient and outpatient dietitians as part of the department, the foodservice team has partnered with these teams to demonstrate healthy food including tours with the Diabetes Teaching Center.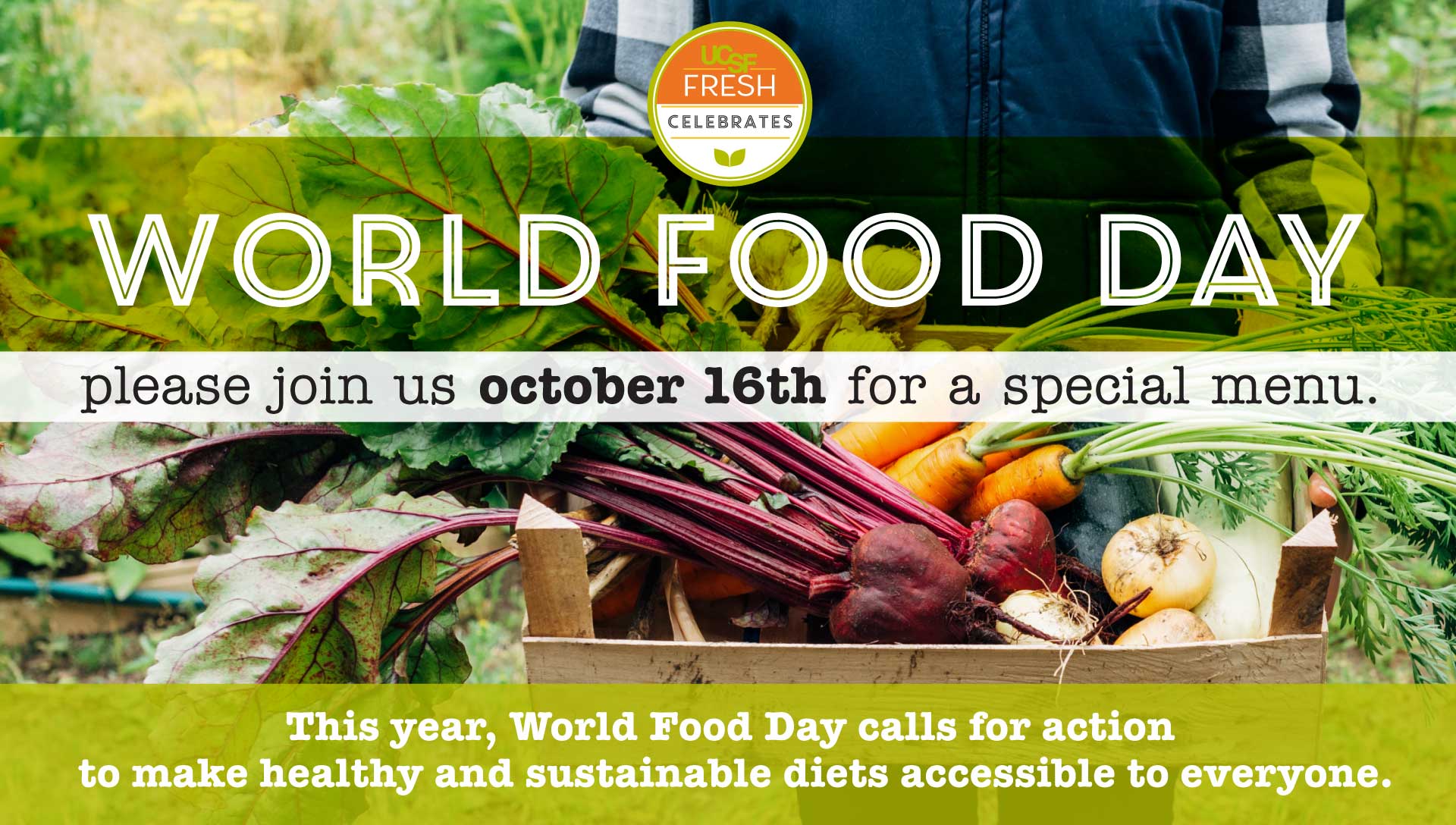 NFS has been continually recognized for its innovation and commitment to sustainable purchasing and practices. Through its work with such organizations as Healthcare Without Harm, Community Alliance with Family Farmers, and the Real Food Challenge, in 2014 the Department exceeded the University of California Office of the President's mandate of at least 20 percent "real food" purchases of total spend by 2020.Through its partnership with the UC Global Food Initiative and Menus of Change University Research Collaborative, NFS has continued on its path to a more plant-forward focus on menu planning, including the launch of its newest concept, "Roots + Shoots", featuring a variety of plant-based composed salads as the "mains" and smaller, high-quality animal proteins as the "sides". In addition, the team was a leader in eliminating sugar-sweetened beverages from its operations in 2014 and early 2015 when UCSF announced it was eliminating SSBs by November 2015.The NFS team became the first healthcare food provider to earn the U.S. Healthful Food Council's REAL certification for its three sites in 2017.
Current Sustainability initiatives include-
·       Bring Your Own Cup (BYOC), Skip the straw and Use reusable utensils.
·       Supports local farmers' markets at Parnassus Heights and Mission Bay sites
·       Local food sourcing and promoting fruit and vegetable consumption
·       Sustainable seafood purchasing program
·       Hosting local restaurants as guest food concepts practicing protein flip and ethinic flavors
·       Purchasing protein raised without the use of subtherapeutic antibiotics
·       Research site for energy-efficient equipment with the Food Service Technology Center
·       Food waste tracking and recovery programs