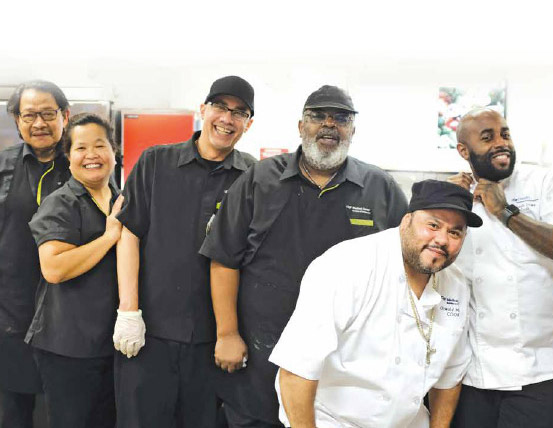 UCSF Nutrition & Food Services is responsible for all UCSF Health food operations, including patient dining, retail food outlets, inpatient and outpatient nutrition services, catering, and gift shops. It is the only university-operated food establishment at UCSF. Our department also sponsors an accredited dietetic internship, which has trained dietitians since 1936.

Dan Henroid, Director of Nutrition and Food Services, UCSF Health
[email protected]
415-353-1348
JoAnn Florendo, MPA, Business Office Manager

Frank Rivera, Business Office Supervisor
NUTRITION SERVICES
Ami Patel, Interim Director, Nutrition Services and Associate Director, Projects, Training, and Compliance
Liz Sullivan, MS, RD, Dietetic Internship Director
Cait Hogan, RD, Manager, Adult Inpatient Nutrition Services
Maria Hetherton, RD, interim Manager, Pediatric Nutrition Services
Allie LaTray, MS, RD, Supervisor, Outpatient Nutrition Services
FOOD OPERATIONS
Parnassus
415-353-1461
Anne Alexander, MBA, RD, Associate Director, Patient Food Services

John DeDios, Patient Food Service Supervisor
Margie DeGroot, Patient Food Service Supervisor
Connie Nelson, Patient Food Service Supervisor

​Brigid Callinan, RD, Manager, Procurement and Sustainability

Denise Lee, CDM, Procurement Supervisor

Andre Yusuf, CEC, CDM, CFPP, Associate Director, Culinary Innovation and Operations

Ben Denton, interim Executive Chef
Irwin Bigornia, Executive Sous Chef

<vacant>, Manager, Moffitt Café and Moffitt Café Express

Jing Pese, Retail Food Service Supervisor
Patricia Blecha, Retail Food Service Supervisor
Shenisha Williams, Retail Food Service Supervisor

Sean Romo, Interim Manager, Moffitt Catering

Dan Miller, Catering Chef
Elmer Calagian, Catering Supervisor
Paul Roman, Catering Supervisor
Mount Zion
415-885-7381
Christy Carrillo, CDM, CFPP, Manager, Mount Zion Café
Audrey Pastones, Chef Supervisor
Richard Hernandez, Food Service Supervisor
Mission Bay
415-476-3845
Leila Tabrizi, MS, RD, interim Associate Director
Irene Regala, Executive Chef
Florence Fung, interim manager, Shorenstein Family Cafe, Shorenstein Cafe Express, and Equator Cafe.
GIFT SHOPS
Oliver Olivares, Manager, Parnassus Heights and Mission Bay Hospital Gift Shops
Chris Wilhite, Manager, Friend to Friend Shops at Mount Zion and Mission Bay

UCSF Nutrition & Food Services is responsible for all UCSF Medical Center food operations, including
patient dining
retail food outlets
inpatient and outpatient nutrition services
catering
gift shops.
UCSF patients and their families and friends, as well as UCSF employees, students, and visitors, rely on our department for a wide range of nutrition and dining services.
We provide nutrition care for our patients while they are hospitalized and through our outpatient clinics, including food for patients on complex modified diets.
We also serve more than one million customers each year in our cafeteria, provide a variety of retail dining options, and offer catering services for the UCSF Medical Center and campus.
DINING OPTIONS
On all three main campuses—Parnassus, Mount Zion, and Mission Bay—food services and dietitians work together to offer the best selection of nutritious eating options, a unique approach that is far beyond what most hospitals in the country provide. Through innovations such as nutrition information on menus and restaurant receipts, plus integration with applications such as My Fitnesspal and FitBit, our goal is to make it easy to make informed, nutritious choices through all UCSF food service operations.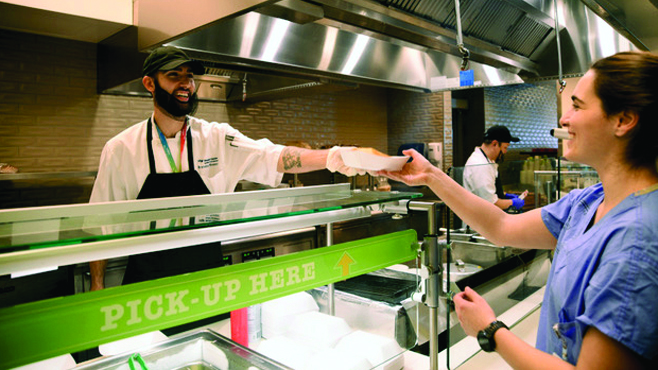 NUTRITION SERVICES
The registered dietitians at the UCSF Nutrition Counseling Clinic at 400 Parnassus (A435) provide individual nutrition counseling for adults, adolescents, and children. UCSF outpatient dietitians have created a series of informative, health-related newsletters on diabetes, healthy weight, exercise, nutrition for kids, high blood pressure, and heart health. Look for these and many other patient education materials at www.ucsfhealth.org/conditions. To learn more about outpatient nutrition services at UCSF, go to Outpatient Information.
INTERNSHIPS
Our 50-week Dietetic Internship is accredited by the Accreditation Council for Education in Nutrition and Dietetics. More than 800 Registered Dietitians have completed the program since it began in 1934. Our graduates are employed as clinical and outpatient dietitians, managers in clinical nutrition and food service, and in non-traditional jobs.