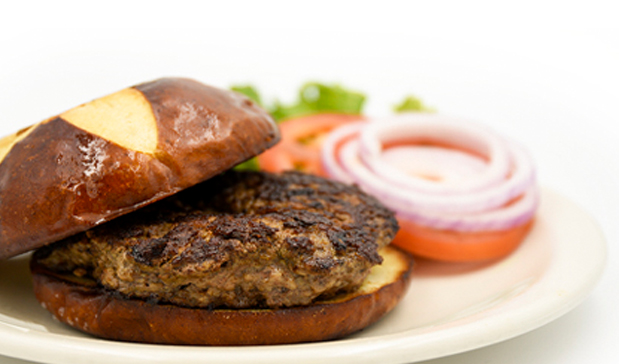 MOFFITT CAFÉ HOURS
Monday – Friday 6:30 am - 7:00 pm Open
Monday - Friday 3:00 pm - 6:45pm Select items available for pickup.
Weekends/Holidays 7:00 am - 3:00 pm
Monday - Friday from 3pm to 7:00 pm you can order on the Grubhub app and pick up at the café. Or head on down to the café and we can process your order there. Below is our basic menu - there may be additional daily specials not listed here. Prices and items are subject to change.


ENTREES
Plum Glazed Chicken - $4.50 - Mon
Roast chicken quarter in a rosemary plum sauce
Plum Glazed Tofu - $4.50 - Mon
Seared Tofu in a rosemary plum sauce
Pan Seared Salmon - $7.00 - Mon, Fri
Atlantic salmon seared and served with fresh lemon & parsley 5.5 oz
Tofu with a spicy garlic sauce - $3.90 - Mon
Organic tofu baked in sesame oil, soy sauce, garlic, green onion and sesame seeds
Garlic Parmesan Chicken Wing Wingette Rice Bowl - $7.00 - Mon
Five delicious fried chicken wings served in a garlic parmesan butter over a bed of jasmine rice
BBQ Pork Ribs - $6.05 - Tue
Two pork ribs glazed with a savory BBQ sauce 3.7oz
Lemon Peppercorn Tilapia - $6.00 - Tue
Lightly steamed Tilapia fillet seasoned with peppercorns and lemon 4.8oz
Vegetable Lasagna - $3.95 - Tue
Layers of pasta, veggies and cheese 8oz
Chicken Adobo Wing Rice Bowl - $7.00 - Tue
Five delicious chicken wings marinated in soy sauce, vinegar and spices stewed until tender served over a bed of Jasmine rice
BBQ Chicken Skewer - $4.25 - Wed
One marinated chicken char- grilled skewer in a Filipino BBQ sauce
Cajun Catfish - $4.45 - Wed
Baked catfish marinated in cajun spices 6 oz
Sitaw Kalabasa - $4.45 - Wed
Kabocha squash and green bean simmered in coconut milk 6 oz
Chicken Teriyaki Wing Rice Bowl - $7.00 - Wed
Five delicious chicken wings marinated in teriyaki sauce served over a bed of jasmine rice
Spaghetti with Meat Sauce - $4.45 - Thu
Spaghetti noodles served with a classic bolognese sauce 8 oz
Dill Baked Salmon - $7.00 - Thu
Atlantic salmon served in a creamy dill sauce
Cheese Ravioli in Marinara Sauce - $5.05 - Thu
Cheese ravioli with a classic marinara sauce
Asian Glazed Chicken Wing Wingette Rice Bowl - $7.00 - Thu
Baked Chicken wings marinated in garlic chile sauce, soy sauce and ginger served over a bed of rice
Chicken Tamale in green sauce - $4.25 - Fri
A hearty chicken tamale served in a green chile sauce topped with shredded cheese
Chile Relleno in green sauce - $5.25 - Fri
Poblano Pepper dipped in egg batter, fried and served in a green chile sauce topped with shredded cheese
Korean Chicken Wingette Rice Bowl - $7.00 - Fri
Baked chicken wings marinated in soy sauce, sherry wine, sesame oil and red chile flakes served over a bed of jasmine rice
SIDES
Jasmine Rice - half cup steamed - $1.60 - Every Day
Organic Brown Rice - half cup steamed - $1.60 - Mon, Wed, Thu, Fri
Fresh Cut Green Beans - Steamed fresh green beans drizzled with olive oil, kosher salt and black pepper 4oz - $1.60 - Every Day
Fresh Broccoli Florets - Fresh steamed broccoli 4oz - $1.60 - Every Day
Italian Roast Vegetables - Roasted Zucchini, yellow squash, red peppers, green beans, carrots red onion with Itallian seasoning 4oz - $1.60 - Every Day
Garlic Bread Sticks - French bread stick with olive oil, garlic and parmesan cheese - $1.60 - Tue, Thu
Pork Lumpia - Five pieces of Filipino fried spring rolls with ground pork and mixed vegetables - $2.65 - Wed
Vegetarian Pancit - Thin rice noodle fried with soy sauce and chopped vegetables - $2.65 - Wed

Create your own your own personal pie
Perfect this thin crust with just the right "bite". Customize to your own tastes with choice of sauce and toppings. Your choice of 10 inch or 16 inch pie, 1 of 3 sauces, and up to 6 toppings - 10" is $10.50 / 16" is $22.00
Step 1 - Thin Crust…Choose Small 10" or Large 16"
Step 2 - Choose a Sauce: Tomato, Pesto or Alfredo
Step 3 - Choose a Cheese: Mozzarella, Bleu Cheese, Feta
Step 4 - Choose up to 6 toppings: Shrimp ($1.00 additional), Pepperoni, Sausage, Grilled Chicken, Bacon, Spinach, Mushrooms, Tri-Colored Bell Peppers, Black Olives, Roasted Tomatoes
Pepperoni Pizza
Red sauce, pepperoni, mozzarella, provolone, asiago, classic thin crust classic - $9.50

Cheese Pizza
Red sauce, mozzarella, provolone, asiago, thin crust classic - 10 inches - $7.50

Vegetarian Greek Pizza
Red sauce, mozzarella, provolone, asiago, feta, spinach, roasted tomatoes, bell pepper medley, black olives, thin crust classic - $11

Shrimp Alfredo Pizza
Alfredo sauce, shrimp, bleu cheese, thin crust classic - $12

Moffit Chicken Pesto Pizza
Pesto sauce, chicken, roasted tomato, baby spinach mozzarella, asiago, thin crust classic - $11.5